19 Jun

Homeowner's 2020-2021 Property Tax Calendar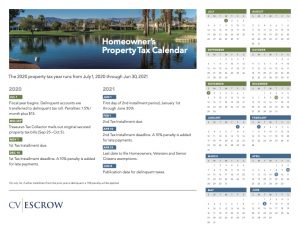 We all have calendars, and sometimes we just don't pay attention to them or, even worse, don't even have any important dates listed on them. Today, we wanted to share this very important and helpful calendar with you — the Homeowner's Property Tax Calendar! 
Please feel free to download a copy to keep handy and share it with anyone you think might find value in it. 
And, of course, if you need any type of escrow assistance or have questions, please reach out. Our team is here to support you!