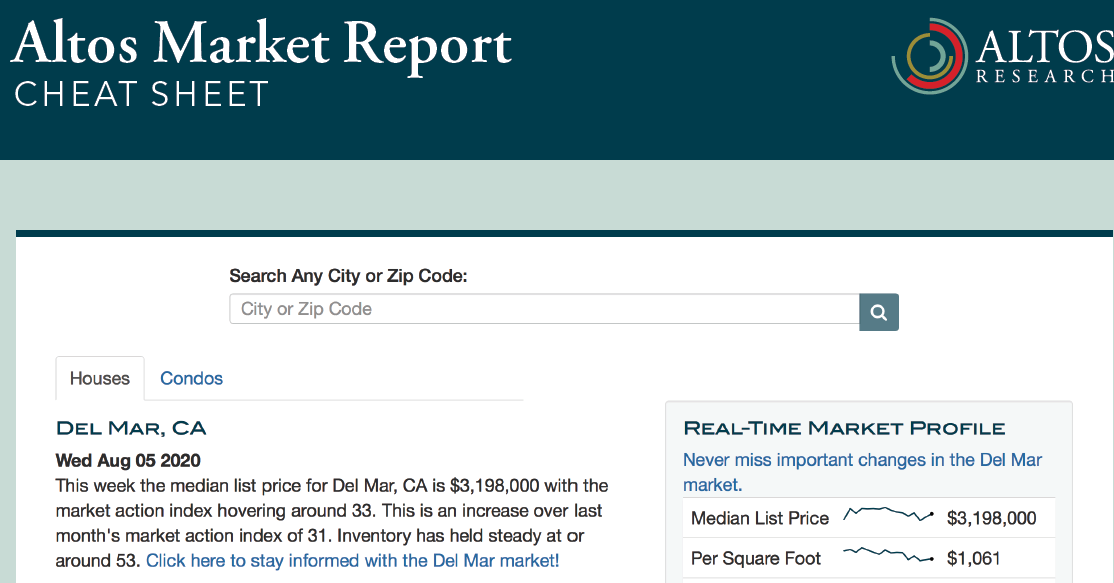 22 Oct

How To Get The Most Out Of Your Altos Market Reports: Cheat Sheet

Altos Market Reports are an effective information aid for real estate agents, but learning a new technology tool and dissecting the massive amount of data in reports can be daunting. We have put together these cheat sheets to boil-down the information into a more easily digestible format to help you utilize these reports to their optimal levels! 

Whether your clients are buying or selling, these cheat sheets are packed with information that you can use to ignite conversations! You will be equipped with pertinent data about specific markets to help position you as the subject matter expert.  

For example, these reports offer clear and easy-to-understand information to the age-old question of "How's the market?" They contain information that is 100% focused on the active market, excluding pending and contingent. The data is for single-family homes in addition to condo townhouses. 

Reports are broken down into four parts: Our Data, Real-Time Market Profile, Market Action Index, and Market Segments. Data is pulled from multiple sources, including off-market, and the Market Action index compares the rate of sales versus current inventory.

Altos Market Reports are updated weekly, so you can always download an updated cheat sheet that's packed full of information about a city or zip code that you need to know now!   

CLICK HERE TO DOWNLOAD TO CHEAT SHEET!

If you would like to sign up or add more zip codes, click here. And, if you have questions about the reports, please reach out. We're here to help!